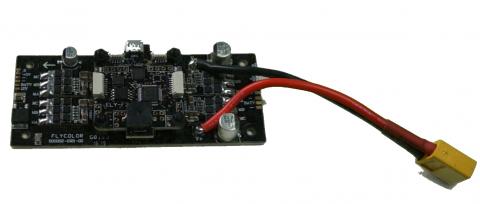 This is a hardware review of an interesting product for FPV racers. 
This product consists in an integration of mutliple components you would otherwise need to solder and assemble together with lots of wiring, thus saving weight and making a cleaner build.
In brief, it is at the same time:
-a F3 flight controller board (could have been the latest F4 generation but hey, F3 is good enough for my flying skills). The F3 board plugs/unplugs from the ESCs/PDB motherboard. So it can be replaced if needed.
-a power distribution board
-a 5V BEC
-a 12V BEC
-4 in 1 20 amps BLHeli ESCs. Their signal+ground wires are connected to the F3 board within the PCB , so no wires required. All four ESCs can also be individually replaced if needed.
The video shows all positive and negative aspects I found about it. A big plus is the weight saving and ease of build. The biggest negative point is you are stuck with a rectangular form factor and the solder pads for the motor wires are not best placed for a typical FPV X frame.