Products
We provide ready-to-fly multirotors and fixed wing types of UAVs. Engineered to your needs: Long Duration or Heavy Payload. Every customer's needs are different so we will gladly design and build the right UAV for the intended applications. Contact us to discuss your project !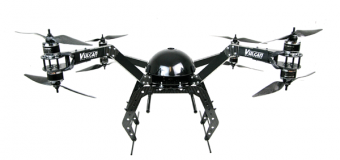 Engineered to your needs: Long Duration or Heavy Payload
Can carry payload up to a few kilograms (up to 8Kg on option)
2 axis Brushless gimbal (3 axis on option)
Sony NEX5/7 camera (other options possible)
Pixhawk flight controller, full failsafe functions and autonomous flight controller

Anti vibrations system for payload

Can carry up to two large lipo batteries (typical 6S - 16000 mah)

8 x Tiger Motor (T-Motor) 3515 - 400Kv motors (other options possible) 
8 x 15"x5 XOAR pre balanced wood propellers
250 amps power distribution board
Airbot heavy is a heavy lift multirotor platform in the 5 to 9 kg AUW range, capable of embarking up to a few kilograms of payload with a 20+ minutes autonomy. Ideal for professional and industrial aerial work !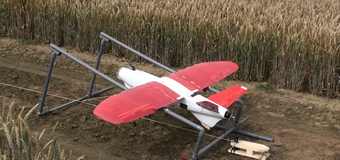 2 meters wingspan
4.5 kg all up weight *
Fully Autonomous
Up to 2 hours endurance flights *
Max speed up to 70 km/h *
Low stall speed < 25 km/h *
Long distances
EPO resilience
Failsafes security
PC & tablet ground control software
Telemetry
First person view
Google map programmed missions
Professional autnomous fixed wing aerial platform : a plane UAV built for long flights duration, multiple cameras for extensive 2D or 3D terrains mapping, first-person-view support, autonomous flights.
(*) Note : these performance specifications are not contractual as they will depend on actual configuration, weight, battery quality, weather and environmental conditions.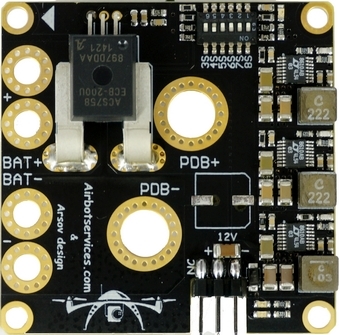 Extreme quality triple power board (5V, 12V), redundant battery inputs, 150A Hall effect current sensing, up to 8S voltage monitoring and PDB